About Bob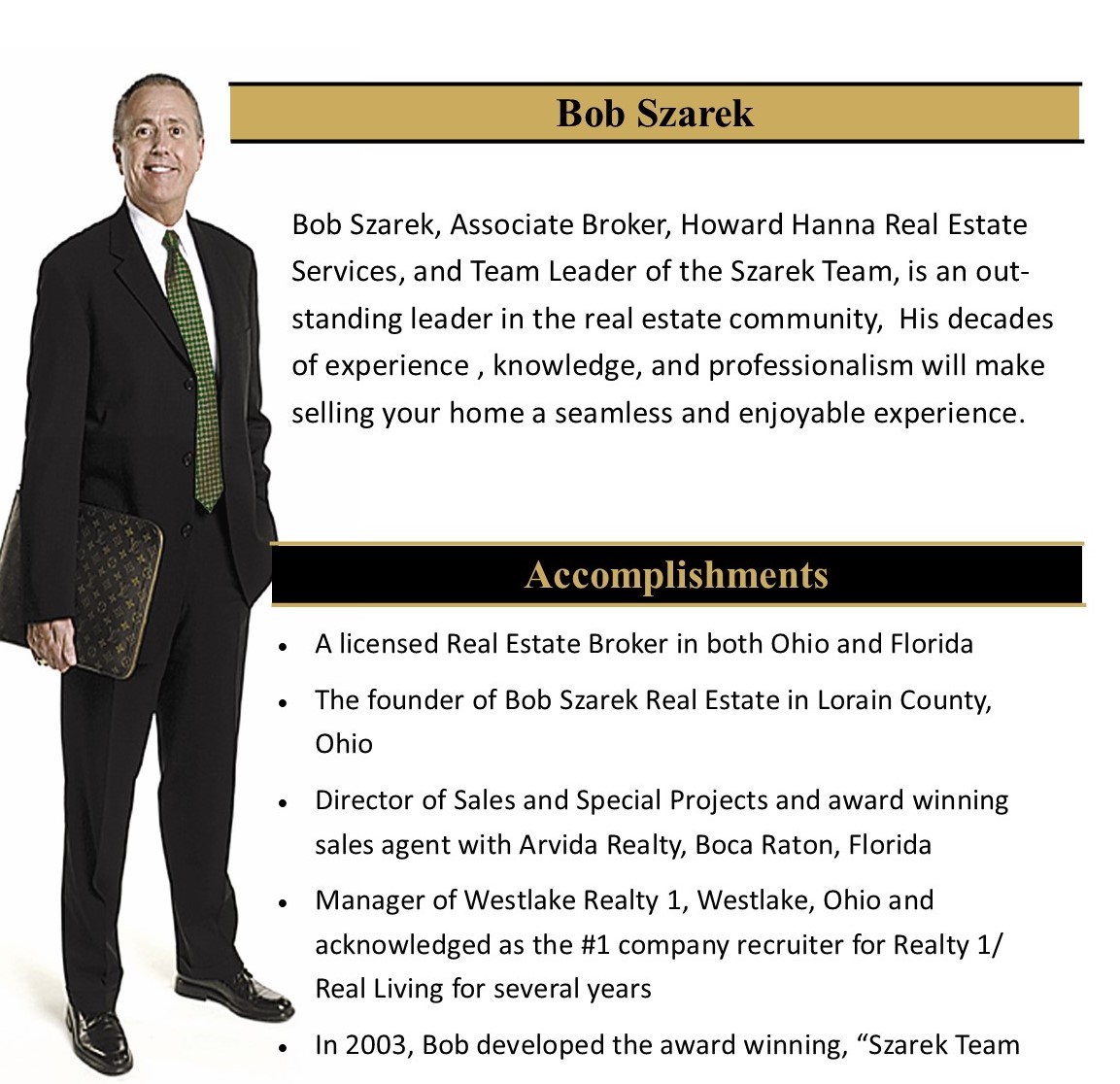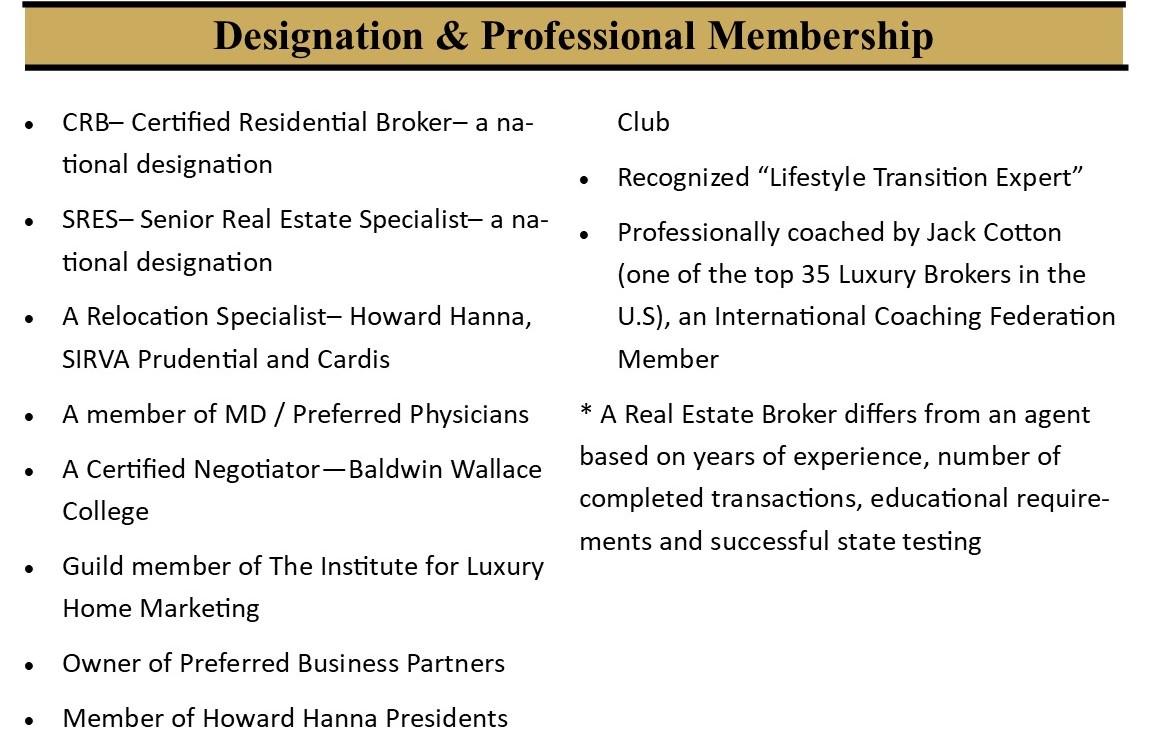 Glowing Reviews
Bob is a gem. We bought and sold properties through him this year. His vast experience, market knowledge and huge network of colleagues gave us an enormous advantage. You name it - he has seen it all -- he stays cool and has a strategy to advance your position at every turn. Bob's high energy level and enthusiasm are contagious. He is a fantastic communicator - he responds back to your questions immediately by call or text 7 days a week. We rarely had questions for him because he proactively called us at every small step in the buying and selling process. Bob's office staff are wizards with the web-based marketing and sales technology. He's one of those guys whose substantial career success has been built on working hard, laser-focused attention to the smallest details, telling the truth, and treating people with respect and kindness.
-FS
"The length of time and degree of patience to bring about the productive results of marketing my property went far beyond all of my expectations. Mr. Szarek stayed the course with experience and consideration for all involved. I viewed Mr. Szarek as a completely accomplished real estate professional with absolute integrity."
- Patricia Michael
"It has been about a month since I closed on my townhouse in Crocker Park and I'm really thankful to Bob who helped me during the whole process, from contract to closing. Bob's dedication and knowledge made buying my first home a very positive experience. The purchase of my home would have not been possible if it weren't for Bob's real estate expertise and his quick and smart decisions. I could have not asked for a better realtor than Bob Szarek. Working with Bob has been very pleasant and now I count him as a friend. I would recommend Bob to anyone!"
- Kozeta Kakeli
"Bob and his team are outstanding!"
- Mark Mroz
"Very professional and friendly. When I have questions, Bob always responds quickly"
- Carl Newsome
"Bob and his team did a great job in all phases of this transaction"
- Mark Barrus
"It is my opinion that, through Bob's skills and efforts, we were able to achieve a successful sale of our property in a price range even greater than expected. Bob offered sound advice, was quick to explore new possibilities related to sale and kept all parties informed"
- Howard A. Hartman
"Bob Szarek is one of the best real estate agents I have ever worked with. He has more knowledge, energy, is trustworthy and works like no-one I have ever worked with. No wonder he is so successful - and he is a wonderful person and family man. If you want to list your home or buy a home - you must work with Bob!!
- Marjorie Kent
"I can tell Bob is deeply experienced. Recommended by Key Private Banking in Crocker Park from Lisa Kopco."
- David and Katherine Brown, Westlake, OH
"Prior customer and satisfied performance and service."
- Joseph and Carol Unger, Westlake, OH
"Excellent Work! The market analysis of the value was confirmed by the bank appraiser. Bob is very well-known and respected."
- Roger and Maria Gibson, South Euclid, OH
"Bob Szarek and his team (Tina Thomson) displayed diligence, professionalism and kindness throughout the process of selling our home and purchasing our condo."
- Nancy and Frank Zombek
"Bob did a wonderful job selling my mother's house. He was highly professional and attentive to our sensitive situation. I highly recommend him."
- Dan Portik
"The words, 'The Right Broker Makes ALL the Difference' rang true in every aspect of selling our home, especially the degree of communication from Bob Szarek and his capable and focused team. Every phone call was returned promptly, and ever question was answered. We need "never shop" for a realtor again!"
- Tom and Susan Quinn
"Bob is not only a true professional dedicated to his craft, but an outstanding representative of his real estate firm as well. His knowledge of the real estate business as well as his skill to bring clients together to effect an agreement, is outstanding."
- Leonard E. Frick
"Bob and his team were a terrific resource to me in locating and working throughout the process of purchasing our new home. Their years of experience, professionalism, responsiveness and helpful suggestions were evident throughout. I recommend Bob Szarek and his team to anyone looking to sell or purchase their home."
- Kevin Mahon, Avon, OH
"The open houses were done extremely well - and the marketing and showing of our home was superb! Bob's reputation, experience, knowledge and communication are excellent! Bob is great, and we would highly recommend him and his team!"
- Larry and Linda Hoeffliln, Westlake, OH
"Bob was honest, professional, trustworthy and got us exactly what we were looking for! We truly enjoyed working with him now and am proud to call him a friend! Thanks for all your resources, friendliness and efficiency with our transaction."
- Angela Ellacott
"I have known Bob Szarek now for almost a decade and had many transactions through him for both business and personal real estate. He is a man of integrity that never spare a chance to stand by you firmly and give you an advice even if that could affect his business or commission. He looks after you and make sure that your transaction is fair and well taken care of. He is so dedicated and diligent at his work no wonder why he has built such a great reputation in the community and between his peers. Bob has the spirit and energy of twenty year old which he attributes to his "resilient polish blood". You will feel this spirit believe me from the first phone call."
- M. Issa
"Bob, we thank you for the awesome job you did selling our home. Bob listed our home on Sunday, set up a showing for 10am on Thursday of the same week and returned with a full cash offer 3:30pm the same day. If you want to sell, buy, or need movers. Bob will get it done with your needs being his number one priority. Bob is the best realtor we have ever dealt with."
- Bonnie and Ralph King
"My fiance and I used Nancy Diluciano, as our real estate agent to help us find our perfect home. We had seen a couple houses prior to finding our home but once we walked in we all knew it was the one. She was extremely helpful in so many aspects of the home buying process including helping us to see the potential in each aspect of the home we purchased. She's very friendly and easy to talk to and more than willing to answer any of the questions you may have. I'm so happy we had her to help us find our first home."
- Kelsey Plato
"Bob and his team are top notch! He has helped me with several transactions over the years. He knows how to negotiate a deal professionally. He's is a go-getter! I wouldn't work with anyone else!"
- Wendy Yeager
"Bob and Tina are very professional. Refreshing as it appears professionalism seems to be wavering in the Real Estate business. They provided great real time feedback. Always prompt on meetings."
- Ray Severa
"If there were a 10 star rating, that's what I'd give Bob. EVERY SINGLE ASPECT of our time with Bob was terrific! His professionalism, friendliness, prompt response always and honesty is what I feel sets him apart from anyone else we've ever worked with...and we've worked with alot of agents over the last several years! Both in the US & Canada! Hands down would recommend him to any friends or family looking for a home in the Cleveland area. We enjoyed our experience with him selling our Westlake home so much that we've engaged him again to help assist us with buying my Mom a home!! Thumbs up! :-) A++++"
- Angela Ellacott
"Bob is the ultimate professional available for any questions or request at all times he has long experience in the field that shows in his knowledge and what to do if unexpected happens . He gave us the feeling we are in good hands and has our back we have tried other agent and we ended very disappointed. We wish we knew him earlier and not wasted precious time we are very thankful for his service and help."
- Abby Zaia
"Bob did better than expected! Everything was well explained and went very smoothly. A great team overall. Would do it all over again. Very concerned with every aspect of our move and his follow up was great!!"
- Kennith Murtaugh
"Bob brought a wealth of experience and knowledge into our transaction. He hit a home run in evaluating the market in which our house would compete and we completed the sale within days."
- Ken Garfat
"He is professional and always available when I have a question."
- WCMA President
"Bob was fantastic. Extremely helpful and great to work with."
- Meredith Frick
"Bob provided a clear explanation of Howard Hanna services. Bob guided us through the process of selling and buying a home. We also had the opportunity to work with Tina as well, both were always professional and helpful throughout the process."
- Mike & Eileen Stanic
"There are not enough words to describe my amazing experience of purchasing my new home. I enjoyed working with Bob. He is prompt to respond to all my forms of communication. He is thorough in explaining anything. His work is over and above what's expected of a realtor. Bob is funny and a true people-person. One can tell that he enjoys doing what he does. He treats you like family. I value his honesty and can truly call him a friend. I'm so happy I met him and look forward to selling my prior condo with him. Truly the best of the best!"
- Rima Bachuwa
"Aaron Rock and Bob Szarek were great to work with! They are knowledgeable, honest and upfront from the beginning! They worked hard to sell my townhouse and did a great job! Thank you!"
- Melissa Moody Walsh
"Bob was very clear in his explanations and well prepared for our purchase meeting. He was very friendly and available whenever we had questions. We appreciate how smoothly everything went, thanks to Bob and Tina and also Barristers."
- Elizabeth Miller
"Very good communication from Bob."
- Thomas M. Fiebig
"Bob was very easy to work with and our home sold in 2 weeks!!"
- Kimberly Wilfong
"Bob had more activity in a week than a previous agent had in a year. We are very pleased with his efforts."
- Gloria Johnson
I wanted to just thank Bob for the outstanding service in all aspects of the sale of my home in Crocker Park. Not only was the time from listing to closing remarkably short, but I believe both myself and the buyer arrived at a fair price within a rational process. Your market knowledge and relationships with the bank and title company clearly assisted in the process.
I've been in the hospitality business for the better part of three decades and I've bought and sold more than a dozen homes. Your level of service was remarkable and this was by far the smoothest real estate transaction I've ever experienced.
I wish you well.
-Matt Ouimet